GOVERNMENT EXECUTIVE MAGAZINE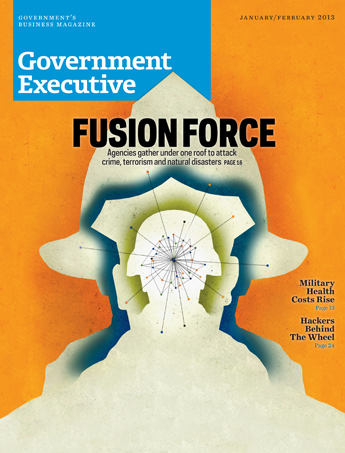 Government Executive : Vol. 45 No. 1 (January/February 2013)
ISSUE:
Feb 01, 2013 – Vol. 45, No. 1
Print Subscription
Subscribe to the Print Magazine
NEXTGOV
By Aliya Sternstein , Bob Brewin and Joseph MarksRadio plan hits static, digital savings and destination Pinterest.
By Joseph MarksSecession petitions point out strengths and weaknesses of We the People website.
BRIEFING
By Rebecca Carroll , Eric Katz and Kedar PavgiHigh-tech arm for injured vets, green jobs and USPS cash for clunkers.
By Kellie LunneyThe military provides inexpensive, quality health care. But the program has become a victim of its success.
By Charles S. ClarkFEMA's fledgling business liaison office sets corporate resources in motion during emergencies.
EDITOR'S NOTEBOOK
By Tom Shoop Why don't federal agencies want to talk about what they're doing right?
FEATURES
By Charles S. ClarkFrom street crime to terrorism to violent weather, the Homeland Security Department's fusion centers piece ...
By Aliya SternsteinIntruders can tap into vehicle systems to access cellphone calls, GPS signals—even the brakes—with no industry regulations in ...
BACK ISSUES
This year
Older issues