GOVERNMENT EXECUTIVE MAGAZINE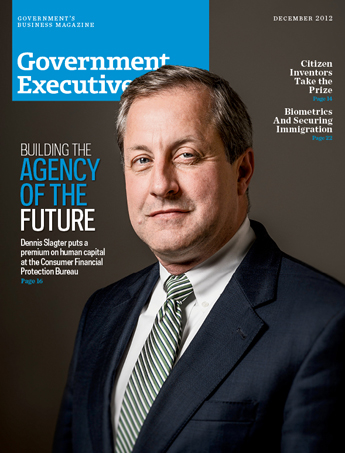 Government Executive : Vol. 44 No. 13 (12/1/12)
ISSUE:
Dec 01, 2012 – Vol. 44, No. 13
FEATURES
By Aliya SternsteinEven with sophisticated biometrics, immigration officials struggle to balance enforcement and privacy protections.
By Charles S. ClarkHow Dennis Slagter and the fledgling Consumer Financial Protection Bureau are tapping talent and technology to ...
BRIEFING
By Joseph MarksNASA's Jenn Gustetic says prize competitions can draw unlikely inventors in the push to improve technology.
By Kellie LunneyThe federal benefits program is seen as a model, but some see drawbacks.
By Chawndese Hylton, Susan Fourney and Kedar PavgiNIST's Nobel scientist, LCM debuts and a 70-year federal career.
EDITOR'S NOTEBOOK
By Tom Shoop A new term brings new opportunities for President Obama.
NEXTGOV
By Bob BrewinAs desktop PCs fade into the woodwork, agencies are confronting a new budget line—mobile management services.
By Aliya Sternstein, Bob Brewin and Joseph MarksTracking diplomats, spectrum dustup and pushing cyber safeguards.