GOVERNMENT EXECUTIVE MAGAZINE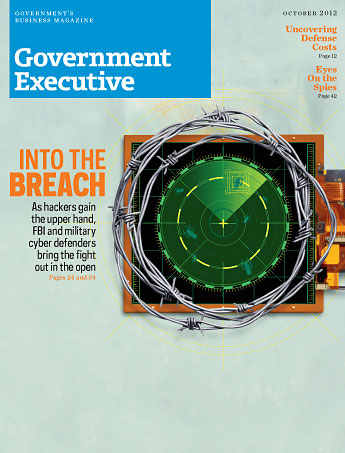 Government Executive : Vol. 44 No. 11 (10/1/12)
ISSUE:
Oct 01, 2012 – Vol. 44, No. 11
Print Subscription
Subscribe to the Print Magazine
FEATURES
By Aliya SternsteinNetwork gurus like Shawn Henry say the FBI is going public with hacker takedowns not only to scare crooks, ...
By Aliya SternsteinThe government wants to train network defenders to understand hackers, not emulate them.
EDITOR'S NOTE
By Tom Shoop The government goes public with efforts to take down cybercriminals—and stop them before they start.
NEXTGOV
By Aliya SternsteinJohn DeLong, the National Security Agency's first-ever compliance director, keeps citizens out of the crosshairs.
By Aliya Sternstein , Bob Brewin and Joseph MarksCold Fusion  Nearly half of federal agencies are not sharing documented incidents of potential terrorist activity with U.S. ...
BACK ISSUES
This year
Older issues