GOVERNMENT EXECUTIVE MAGAZINE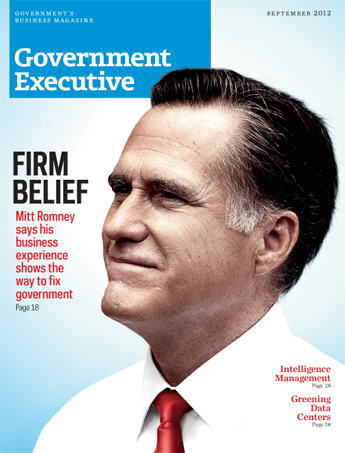 Government Executive : Vol. 44 No. 10 (9/1/12)
ISSUE:
Sep 01, 2012 – Vol. 44, No. 10
Print Subscription
Subscribe to the Print Magazine
FEATURES
By Kellie Lunney Mitt Romney has been a governor and run the Olympics.
By Charles S. Clark National Intelligence Director James Clapper must blend 16 agencies into a coherent community.
BRIEFING
By Kedar Pavgi Helium shortage on the horizon, veterans at risk, GSA back at Ground Zero.
By Aliya Sternstein Backers of domestic unmanned aircraft promote privacy and security protections.
By Amanda Palleschi Defense still believes in the base realignment and closure process.
EDITOR'S NOTEBOOK
By Tom Shoop When it comes to his presidential campaign, Mitt Romney is a company man.
NEXTGOV
By Joseph Marks Consolidating data centers alone won't eliminate costly electric bills.
By Aliya Sternstein , Bob Brewin and Joseph Marks VA looks to consolidate cellphone bills, a very loud cyberattack and fed websites gain fans.
BACK ISSUES
This year
Older issues