GOVERNMENT EXECUTIVE MAGAZINE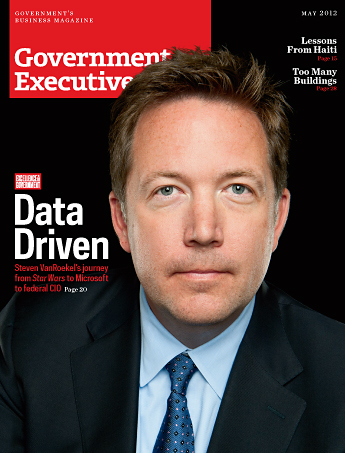 Government Executive : Vol. 44 No. 5 (5/1/12)
ISSUE:
May 01, 2012 – Vol. 44, No. 5
Print Subscription
Subscribe to the Print Magazine
FEATURES
By Joseph Marks Federal CIO Steven VanRoekel is remapping IT strategy for a government on the go.
By Charles S. Clark Tough obstacles confront agencies seeking to offload unneeded buildings that cost the government millions of dollars in upkeep.
BRIEFING
By Amanda Palleschi Critics say using more private sector poultry inspectors could weaken quality checks.
By Charles S. Clark and Andrew Lapin Protective details, courting millennials and TSA keeps the change.
EDITOR'S NOTE
By Tom Shoop Innovation in government is more important than ever.
NEXTGOV
By Aliya Sternstein Once the only sanctioned smartphone in town, the BlackBerry could be on its way to the recycling bin.
By Aliya Sternstein , Bob Brewin and Joseph Marks Reaction to counterfeits, big data's big day and USDA cuts its phone bill.
BACK ISSUES
This year
Older issues