GOVERNMENT EXECUTIVE MAGAZINE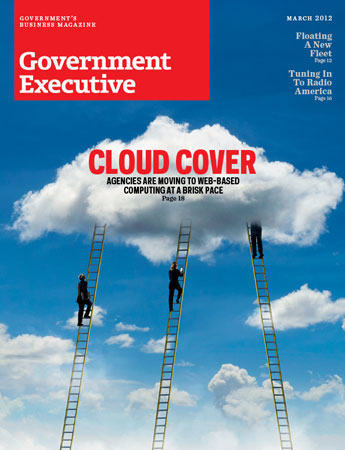 Government Executive : Vol. 44 No. 3 (3/1/12)
ISSUE:
Mar 01, 2012 – Vol. 44, No. 3
Print Subscription
Subscribe to the Print Magazine
FEATURES
By Joseph Marks Cloud computing could reinvent the way many federal agencies operate.
By Aliya Sternstein Cloud vendors and feds are forecasting mostly clear skies for a fast-track security certification process.
By Adam Stone Agencies are making their case for the cloud, despite some unique challenges.
BRIEFING
By Andrew Lapin and Caitlin Fairchild Looking for Peace Corps alumni, social media on the hunt and multilingual services
By Andrew Lapin The Coast Guard rethinks fleet modernization in the wake of cost overruns and flawed manufacturing.
EDITOR'S NOTEBOOK
By Tom Shoop Shifting to Web-based computing is about more than saving money.
NEXTGOV
By Aliya Sternstein , Bob Brewin , Joseph Marks and Dawn Lim Cybersecurity pilot, going mobile, gaming better weapons and the Navy's inventory challenge.
ADVICE AND COMMENT
By Amanda Palleschi , Thinking AheadSarah Bonilla works to create a model for evaluating senior executive performance that truly distinguishes the best.
By Dave Mader and Kristine Rohls , AnalysisAs tighter budgets loom, government will have to be smarter about contracting and consolidating administrative services.
By Elizabeth Newell Jochum , Management Matters - Advice And CommentMuch like a software program, your brain can experience glitches.
BACK ISSUES
This year
Older issues