GOVERNMENT EXECUTIVE MAGAZINE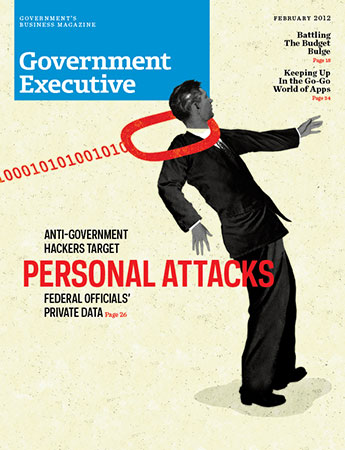 Government Executive : Vol. 44 No. 2 (2/1/12)
ISSUE:
Feb 01, 2012 – Vol. 44, No. 2
Print Subscription
Subscribe to the Print Magazine
BRIEFING
By Caitlin Fairchild and Rebecca CarrollLessons from Lioness, valentine vets and why we need government.
By Charles S. ClarkFledgling diplomatic bureau plays energy and economic development role on the international stage.
By Amanda PalleschiThomas Trabucco, a driving force behind the Thrift Savings Plan, finally gets to rest on his laurels.
FEATURES
By Aliya SternsteinNetwork intruders with an ax to grind are making it hard for public officials to protect their personal data.
By Kellie LunneyThe government's spending problem means smaller portions for agencies and managers for the foreseeable future.
EDITOR'S NOTEBOOK
By Tom Shoop A look at the new GovExec.com.
NEXTGOV
By Aliya Sternstein , Bob Brewin and Joseph MarksRamping up security, more shared services and Chinese computer parts
By Joseph MarksData.gov helps app developers tap government information, but that isnt really the problem.
BACK ISSUES
This year
Older issues