GOVERNMENT EXECUTIVE MAGAZINE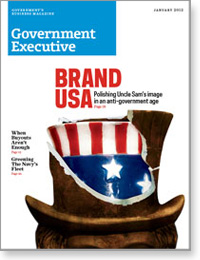 Government Executive : Vol. 44 No. 1 (1/1/12)
ISSUE:
Jan 01, 2012 – Vol. 44, No. 1
Print Subscription
Subscribe to the Print Magazine
FEATURES
By Charles S. Clark Defending government in an anti-government age.
By William Matthews The Navy is pursuing one of the most ambitious alternative energy programs in government.
BRIEFING
Wildlife's public health risk; John Montgomery makes a difference.
By Kellie Lunney Several agencies are offering cash incentives to encourage employees to leave, but most might be better off staying put.
By Aliya Sternstein Law enforcement agencies turn to social media and facial recognition software to ID crime suspects.
EDITOR'S NOTEBOOK
By Tom Shoop The key to overhauling the image of government may lie within agencies themselves.
NEXTGOV
Saving the planet, border security 2.0 and airborne intelligence.
By Joseph Marks Cutting the number of websites is just the first step.
BACK ISSUES
This year
Older issues