GOVERNMENT EXECUTIVE MAGAZINE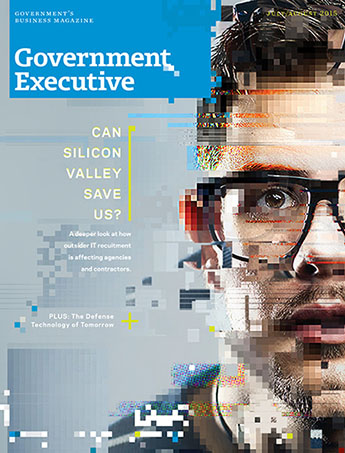 Government Executive : Vol. 47 No. 4 (July/Aug. 2015)
CURRENT ISSUE:
Jul 08, 2015 – Vol. 47, No. 4
Print Subscription
Subscribe to the Print Magazine
BRIEFING
By Hallie GoldenFTC Commissioner Julie Brill prepares for the day there is no Internet.
By Eric Katz, Kellie Lunney, Charles S. Clark and Susan FourneyDefying ranger danger, safety in numbers, solar ready vets.
EDITOR'S NOTEBOOK
By Tom Shoop The Obama administration is counting on Silicon Valley saviors to 'yank' government into the 21st century.
IN EVERY ISSUE
Join the conversation about each issue at govexec.com/magazine.
FEATURES
By Mohana Ravindranath, FeaturesTech firms are adopting a new language to win a shot at innovation contracts.
, FeaturesA majority of federal managers lack confidence in the technology that underpins their public service missions.
By Jack Moore, FeaturesA Silicon Valley sensibility has overtaken Washington. But can it budge the behemoth federal bureaucracy?
BACK ISSUES
This year
Older issues