GOVERNMENT EXECUTIVE MAGAZINE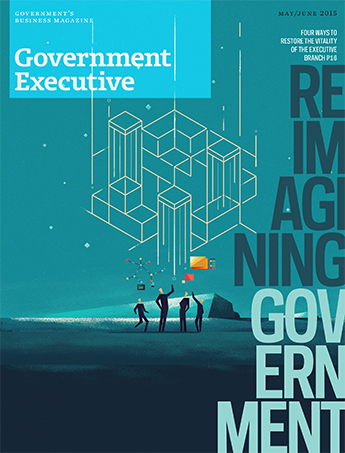 Government Executive : Vol. 47 No. 3 (May/June 2015)
CURRENT ISSUE:
May 06, 2015 – Vol. 47, No. 3
Print Subscription
Subscribe to the Print Magazine
BRIEFING
Join the conversation about each issue at govexec.com/magazine.
By Mohana RavindranathNagesh Rao plants seed money for small business startups that can pioneer breakthroughs in energy, ...
By Susan Fourney, Michael Grass and Charles S. ClarkThe rat pack, star power, ambassadors of equality.
EDITOR'S NOTEBOOK
By Tom Shoop To build the effective agencies of the future, some things need to change now.
FEATURES
By Patrick Boynton and Susan FourneyThe U.S. Forest Service streamlines office space to accommodate more employees and more collaboration.
By Katherine McIntire Peters, Eric Katz, Charles S. Clark and Kellie LunneyFour ways to restore the vitality of the executive branch.
By Patrick BoyntonCan Teach for America also teach the federal government about hiring millennials?
BACK ISSUES
This year
Older issues