GOVERNMENT EXECUTIVE MAGAZINE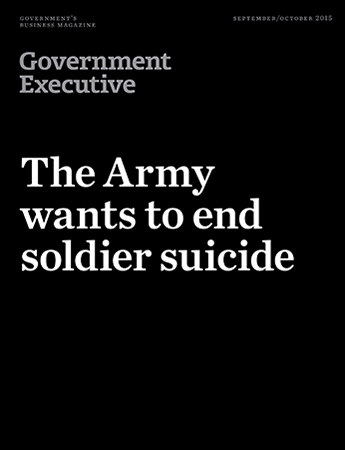 Government Executive : Vol. 47 No. 5 (Sept./Oct. 2015)
CURRENT ISSUE:
Sep 08, 2015 – Vol. 47, No. 5
Print Subscription
Subscribe to the Print Magazine
BRIEFING
By Katherine McIntire PetersNicole Lurie is a practicing physician. Her most complex patient may be the nation's sprawling public health system.
By Patrick Tucker and Susan FourneyBots call the shots, the geese police, the scope of cyber breaches.
EDITOR'S NOTEBOOK
By Tom Shoop Where federal officials are quietly making a difference in the health care system.
IN EVERY ISSUE
Join the conversation about each issue at govexec.com/magazine.
FEATURES
By Katherine McIntire Peters, FeaturesFor most people, a power outage is an inconvenience, but for those who depend on ...
, FeaturesIn a timeline of the Affordable Care Act, provisions of the health care law President Obama signed five years ...
By Frank Konkel, FeaturesThe Army can identify soldiers who are most at risk, but acting on that information poses a moral dilemma.
BACK ISSUES
This year
Older issues