GOVERNMENT EXECUTIVE MAGAZINE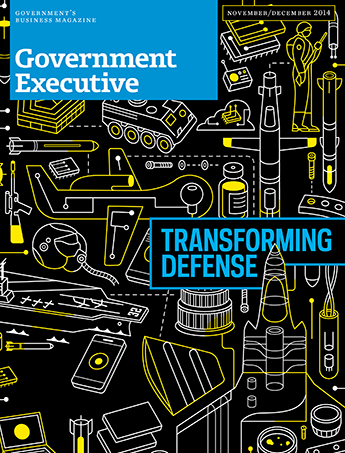 Government Executive : Vol. 46 No. 6 (Nov./Dec. 2014)
CURRENT ISSUE:
Nov 11, 2014 – Vol. 46, No. 6
Print Subscription
Subscribe to the Print Magazine
BRIEFING
By Susan Fourney , Rebecca Carroll and Charles S. ClarkDisease detectives, designing dog noses, aligning employees' mood with the mission.
By Aliya SternsteinCivil liberties advocate Ari Schwartz walks a fine line between tracking and protecting citizens as White House cyber ...
Fighting crime on the reservation Federal law, in its majesty, treats all Indian reservations the same. Some are large—like the ...
FEATURES
Defense Department employees have little faith the acquisition process can provide the weapons and equipment troops need.
By Marcus WeisgerberThe Pentagon spends too much time and money buying weapons that don't deliver, and ...
By Patrick TuckerWhat government could do with $180 million.
EDITOR'S NOTE
By Tom Shoop The quest to squeeze the most out of every dollar of military spending.
BACK ISSUES
This year
Older issues