Promising Practices

A forum for government's best ideas and most innovative leaders.
By Bourree Lam
June 26, 2015
According to one survey, the average amount of time that some employees spend on personal activities at work is somewhere between 1.5 and three hours a day. With that in mind, it's no wonder that employers are more concerned than ever about productivity statistics. Nowadays, with technology that allow employers quantify output more closely, it's no longer the status quo just to show up to work. Managers want employees who are engaged.
In a new global survey, the U.S. and China are tied for having the most-engaged employees—engagement being measured by how much employees believed in their work's purpose and in their own company's future.
The survey was conducted earlier this year in 13 countries, covering 1,000 workers, from various companies, in each country. It asked them to rank eight statements, such as "At work, I clearly understand what is expected of me," and"I know I will be recognized for excellent work." After controlling for the fact that survey questions carry different connotations in different languages, the researchers arrived at their conclusion.
---
Percentage of Workers Considered "Engaged," by Country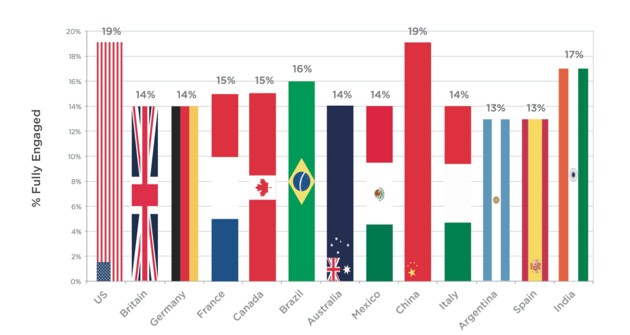 The company that conducted the survey, the Marcus...
By Eric Garcia
June 26, 2015
Millennials now make up a larger part of the population than boomers, according to the latest Census Bureau data.
People who were born between 1982 and 2000, classified as millennials, now make up more than one quarter of the population, at 83.1 million. This is compared with the 75.4 million baby boomers, generally defined as being born between 1946 and 1964.
Millennials are also more likely to be racially diverse, with 44.2 percent of them being part of a minority racial or ethnic group, which is reflective of the fact that the country now has a 37.9 percent minority population as of 2014.
And the diversity of young Americans overall is increasing, as more than half of Americans younger than age 5 are now part of a minority race or ethnic group.
There are also now four majority-minority states: Hawaii, California, New Mexico, and Texas. Washington, D.C. is also majority-minority.
U.S. Hispanics totaled 55.4 million as of July, 1 2014. From April 1, 2010 to July 1, 2014, there was an increase of 4,908,872 Hispanics in the U.S., with 3,656,700 coming from a natural increase after births and...
By Dave Nyczepir
June 26, 2015
Local government presents increased opportunities for engaging citizens to participate in policymaking and strengthening their ability to improve outcomes, according to a new report from the Ash Center at Harvard University's Kennedy School of Government.
Truly inclusive governance requires cross-sector collaboration, writes researcher Hollie Gilman, which has the added benefit of preventing "heightened criticism and an influx of demands" from draining government resources—particularly at the local level.
Coupled with metrics showing officials are regularly consulting residents, public-private partnerships can make local government a force for civic engagement.
Per the paper:
States and cities are in fact the "laboratories of democracy." The locality is re-emerging as a sphere for inclusive governance. One challenge is ensuring these local initiatives can be greater than the sum of their parts. Inclusive governance is not bound to only urban areas. The local level of government, broadly defined to include rural and exurban areas, provides a more manageable size for citizens to be more closely connected to the policies that impact them the most. Connecting local initiatives to the framework of national and international policy could create significant social value.
Read more at Route Fifty.
(Image via Erika J Mitchell/Shutterstock.com)
By Steve Gibb
June 25, 2015
As the staff meeting started it occurred to me that coffee smells better than it tastes. Even with generous heaps of sweet and milky adulterants, the aroma itself overpromises. But as we sipped our cuppas and pre-reviewed the agenda for the team meeting on advancing a government agency's program, we were rocked back on our heels. Oh no. Not her. Listed there was the name of yet another passionate consultant.
It's funny how passion has become the newest pseudo-credential in the long march of management fads and certifications, particularly among the consulting classes. We're told clients just love passionate experts, where you can cut the thickness of their commitment and enthusiasm with a knife.
Ok, so maybe there is nothing wrong with energized experts who love their work trying to inspire others. Except. This is a plea to remember the rest of us, who have to sit through their hour-long presentations teetering on less than five minutes worth of original ideas and evidence. Thank god for caffeine as the rest of the morning's work will involve just trying to stay awake listening to them wave their arms around in overheated passion for the subject, for the...
By Max Nisen
June 25, 2015
If you've applied for a job and never heard back—and who hasn't been there?—you've probably had the nagging suspicion nobody even read your résumé. You probably weren't too far wrong. Many job applications don't get read with any kind of care or attention, because recruiters spend, on average, an estimated (pdf) six seconds on a résumé.
That datapoint is supported by the 12th annual Mystery Job Candidate survey (pdf), in which job-search consultancy CareerXRoads creates a fake résumé for a "Frank N. Stein," and has volunteers use it to apply to all 100 companies on Fortune magazine's Best Place to Work List.
The results: 66 companies ignored the résumé; 28 emailed "Frank" a rejection; six (!) emailed or called to schedule an interview; and two (included in the "negative" count) wrote back noting they knew the résumé was fake:
And these are companies with a particularly good reputation as employers and recruiters.
His name aside, "Frank" has a pretty solid fictional résumé. He is a Cornell University graduate, who worked at Johnson & Johnson for several years, and is currently at Russell Reynolds Associates.
A recruiter paying attention...