Promising Practices

A forum for government's best ideas and most innovative leaders.
By Yoni Applebaum
June 30, 2015
ASPEN, Colo.—Women now account for 47 percent of the American workforce, 52 percent of professional and management employees, and 57 percent of newbachelor's degrees. But even after gains in the 2012 election, they remain just 20 percent of the Senate.
That, however, was enough to create a "traffic jam" in the women's restroom reserved for senators, which had just two stalls, recalled Senator Amy Klobuchar. She joined with Maryland's Senator Barbara Mikulski to press for renovations. "The architect of the capitol presented a certain number of stalls, and we told him that it wasn't acceptable, because it was a glass ceiling," she said. It forms an unconventional index of progress toward parity. Today, there are four stalls; Klobuchar clearly hopes that this, too, will soon prove inadequate.
It's a favorite anecdote for the senior senator from Minnesota, frequently deployed as part of her disarming, often self-deprecating humor. She trotted it out again on Sunday at the Aspen Ideas Festival, during a broad-ranging conversation with the Aspen Institute's Walter Isaacson. And it plays to Klobuchar's proven knack for offering personal anecdotes and levity in the service of more serious points.
Klobuchar used...
By Stewart Liff
June 29, 2015
According to a recent article in the Harvard Business Review, "Reinventing Performance Management," Deloitte is redesigning its performance management system on the notion that it "is increasingly out of step with [the company's] objectives." Specifically, Deloitte feels it drives neither employee engagement nor high performance. This has generated a lot of discussion.
Deloitte's new system will not contain annual employee reviews, nor will it have any goals that cascade down to the employee level. The feeling is that "once-a-year goals are too 'batched' for a real-time world, and conversations about year-end ratings are generally less valuable than conversations conducted in the moment about actual performance."
Deloitte's new system has three basic goals:
Recognize performance through variable compensation.
See performance clearly through a team leader's actions with respect to each employee (e.g., would the supervisor award an employee the highest possible pay increase/bonus, would the supervisor always want the individual on his team.)
Fuel performance through weekly check-ins with employees.
The key component of the Deloitte's new system is the conversations, with the idea being that multiple ongoing conversations are likely to provide richer feedback, and are more likely to drive increased performance than...
By Richard Macauley
June 28, 2015
A report from the Economist Intelligence Unit (registration required) this week offered interesting insights in to the world in 2050, including the prediction that Asia will be home to over half the world's economic growth, and that China's economy will surpass America's in 2026.
Amid all this talk of growth is a little-noticed but startling fact—by 2050 the world will all but stop producing an increase in workers. Over the next 35 years, the labor force's average growth rate is expected to be just 0.3%, and at the end of the period it almost disappears. In the previous 35 years, that figure has averaged 1.7%.
Even more concerning, as workers dry up, the general population will continue to grow:
This is important, and dangerous, because it is the working population that, typically, creates value, contributes tax dollars, and earns income that can be spent taking care of those not working (the elderly and the young).
But global figures alone don't tell the whole story. Countries in Africa, the Middle East, and Asia are expected to grow their labor forces dramatically by 2050, while developed nations are likely to see theirs shrink.
The...
By Bourree Lam
June 26, 2015
According to one survey, the average amount of time that some employees spend on personal activities at work is somewhere between 1.5 and three hours a day. With that in mind, it's no wonder that employers are more concerned than ever about productivity statistics. Nowadays, with technology that allow employers quantify output more closely, it's no longer the status quo just to show up to work. Managers want employees who are engaged.
In a new global survey, the U.S. and China are tied for having the most-engaged employees—engagement being measured by how much employees believed in their work's purpose and in their own company's future.
The survey was conducted earlier this year in 13 countries, covering 1,000 workers, from various companies, in each country. It asked them to rank eight statements, such as "At work, I clearly understand what is expected of me," and"I know I will be recognized for excellent work." After controlling for the fact that survey questions carry different connotations in different languages, the researchers arrived at their conclusion.
---
Percentage of Workers Considered "Engaged," by Country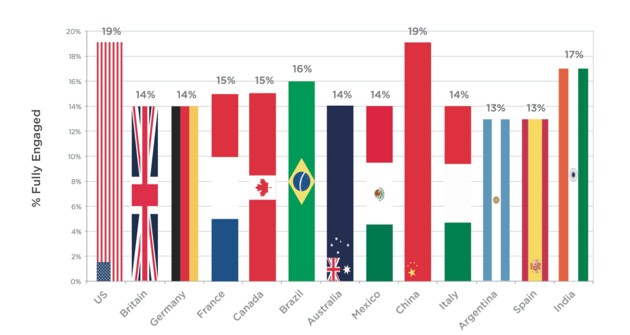 The company that conducted the survey, the Marcus...
By Eric Garcia
June 26, 2015
Millennials now make up a larger part of the population than boomers, according to the latest Census Bureau data.
People who were born between 1982 and 2000, classified as millennials, now make up more than one quarter of the population, at 83.1 million. This is compared with the 75.4 million baby boomers, generally defined as being born between 1946 and 1964.
Millennials are also more likely to be racially diverse, with 44.2 percent of them being part of a minority racial or ethnic group, which is reflective of the fact that the country now has a 37.9 percent minority population as of 2014.
And the diversity of young Americans overall is increasing, as more than half of Americans younger than age 5 are now part of a minority race or ethnic group.
There are also now four majority-minority states: Hawaii, California, New Mexico, and Texas. Washington, D.C. is also majority-minority.
U.S. Hispanics totaled 55.4 million as of July, 1 2014. From April 1, 2010 to July 1, 2014, there was an increase of 4,908,872 Hispanics in the U.S., with 3,656,700 coming from a natural increase after births and...